Why Exodus Dental Care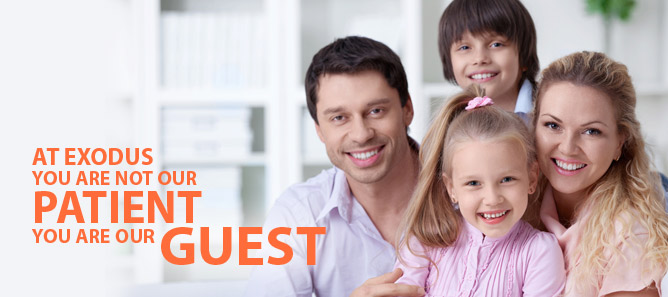 When you travel abroad for Dental care, you want everything to go smoothly. Patients come to 'Exodus Dental Care' from all over the world, and Exodus's Guest Relations Department coordinates all aspects of their care, including Dental care, scheduling of appointments, interpretation services and guest services. We impart the highest quality Dental care for patients from countries spread all over the world, so we understand and can anticipate your needs. We make every effort to assist you & be at your service during all phases of your care i.e. before you arrive, during your stay & after your treatment.
Treatment handled by experts
There is invariably a team of experts providing excellent treatments after the prognosis of your dental issue. There are several treatment plans each adhering to your specific issues.
World Class Infrastructure and equipment
Come and experience the world class infrastructure and the innovative equipments. Get the best of all treatments available. The equipments are all imported and are ideal for the international clientele.
Dedicated International Guest Relations Department
Every international patient is assigned a personal international care executive who provides seamless service at all stages and interactions at Exodus dental Care.
Specialized services such offered
Airport Pick up & Drop facility
Foreign Currency exchange
Wi-Fi access in Clinic
Audio / Video conferencing facility in Clinic
Arrangements to stay in Resort, Clubs & Hotels of your choice for post treatment care.
Local and National travel arrangement for shopping & site-seeing in Wayanad, Kerala
All major Credit/Debit Cards are accepted
Local SIM and communication facilities provided
Easy access & connectivity
The patients can access the treatments easily and even through online access. Wi-Fi connectivity is available within the clinic. Reach out to the best treatments for your dental issues.
Insistance on pre-checkup and patient education
we insist on pre-checkup for all patients and have the required equipment for the same. Your specialist educates and updates the patients on their dental condition and provides the various options available suiting the requirement and budget of the guest. He/She holds the educational sessions & informs the patient and attendants on
Post Treatment Care
After your treatment, you are still under our care. Our guest relations department will be in constant touch with you for any help or guidance regarding post treatment care or any post treatment issues. We will also plan your follow-up visits and future treatment requirements. Post your visit to Exodus, our relations Executive will be your one point of contact for all future communications. Please contact
relations@exodusdental.com
for aftercare.