Our Guarantee
We take great pride in the quality of services we provide at Exodus Dental Care. For your safety, we use only high quality materials from internationally recognized suppliers and so we are happy to provide you warrantee cards for all the implants, crowns and bridges done at Exodus Dental Care. To ensure your satisfaction we have associated with some of the international giants in the field of dentistry like Nobel Biocare, 3M and the like to provide you the best in class treatment available.
Nobel Biocare Implants – Life Time International Warranty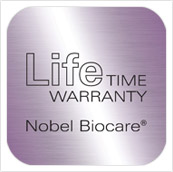 Nobel Biocare guarantees to replace any Nobel Biocare implant that fails to remain in the bone in which it is implanted.Nobel Biocare will replace free of charge the implant and Nobel Biocare restorative components placed on the implant at the time of failure with the same Nobel Biocare implant and restorative components as installed on the implant at the time of failure (the only possible changes are related to diameter and/or length).
Warranty for Crowns and Bridges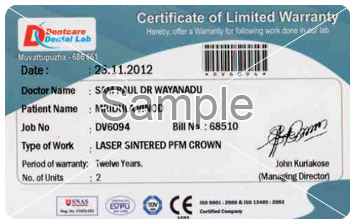 At Exodus we use supreme quality Dental Materials from suppliers like 3M and provides warranty cards up to 15 years for crowns and bridges. We also have special tie up with Dental lab having ISO 9001 : 2008 & ISO 13485 : 2003, CE, SNAS certifications to ensure express delivery of high quality dental materials
Post treatment support
We care and plan for your post treatment dental health also. The discharge policy at Exodus ensures that we will forward all patient medical history records to your local Dentist if you require any kind of follow up in your home country. Also a representative from the hospital will contact your local dentist by phone or e - mail if required.